"Bladelius Design Group" je specijalizovana za dizajn audio i video opreme visokih performansi.
"Bladelius Design Group" are specialized in design of high performance audio and video equipment.
Tyr Fully balanced,remote controlled integrated amplifier 2x100W 8Ω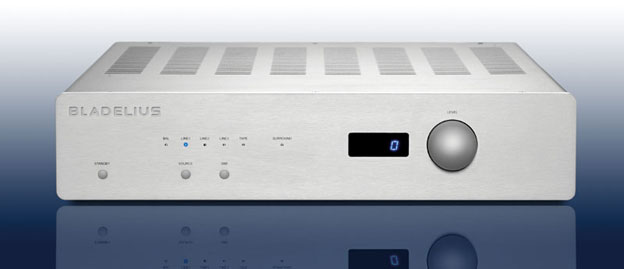 Najbolji osnov za start Vašeg novog Hi-Fi sistema, pogotovu ako želite da udjete u Hi End audio svet a bez probijanja budzeta. Dizajniran minimalistički sa mogućnošću da verno reprodukuje muziku. Tyr daje slobodu izbora odgovarajućih zvučnika zahvaljujući svojim jedinstvenim kapacitetima snage.
This is the best way to start building a new hi-fi system, especially if you want to enter the world of High end audio without breaking the bank. Designed with a minimum of features, the ability to reproduce music faithfully to the composer's intentions is achieved. The Tyr gives an unusual freedom of choice in selecting the matching speaker because of its unique power capabilities.
Technical specifications
Fully balanced design 2x100W 8 ohm Less than 0.1% Thd 20-20Khz
Bandwidth dc-150Khz Input impedance 20Kohm Toroidial transformer 650VA
Inputs: 1 balanced, 3 unbalanced, 1 tape in Outputs: 1 tape out, 1 preamp output
Speaker terminals: WBT
Syn Fully balanced,remote controlled Disc player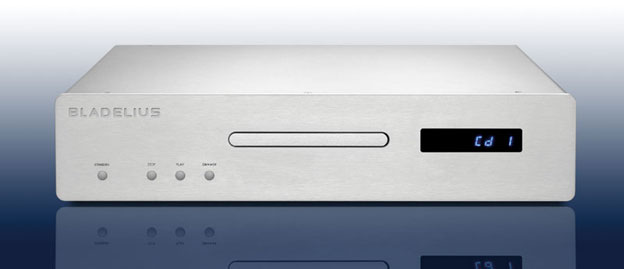 Syn CD Player pruža visoke performanse dostupne po ceni. Viskog kvaliteta 24bits/192 Burr-Brown DA konvertor, kao i poboljšano napajanje optimizuju izuzetan zvučni kvalitet. Izolovan šasija dizajnirana da odvoji transportni mehanizam od DA konvertora je deo najboljeg metoda za odstanjivanje svih nepotrebnih rezonansi. Syn predstavlja najbolji zvučni izvor u početnom sistemu kojeg ranije nije bilo moguće ostvariti.
Syn offers high performance value, but affordable price. The high-grade 24bits/192kHz Burr-Brown DA-converter as well as the improved power supply optimizes a outstanding analogue sonic quality. Isolated chassis design to separate the transport mechanism and DA part is the best method to illuminate all un-necessary resonance. Syn gives the best sounding source in entry level range which no one can be able to achieve
Technical Specifications
Less than 0.005%Tthd
1 pair balanced outputs + 1 pair unbalanced outputs
1 set optical digital output + 1 set RCA digital output
Thor Mk II Fully balanced,remote controlled integrated amplifier 2x165W 8Ω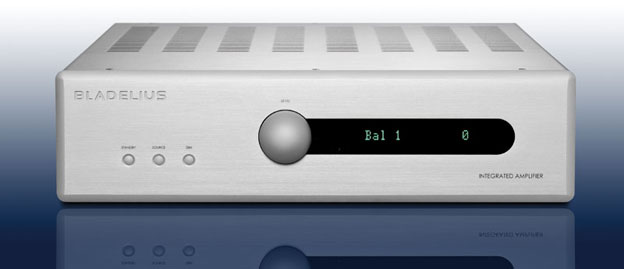 Thor bog rata, zasenio je svet udarcem munje i zavladao svetom svojom strašnom snagom.
Ovo je nova verzija integralnog pojačala Thor. Sada i sa više snage da pretvori zvuk u muziku i osećanja u emocije. Thor Mk II generiše svoju neizmernu snagu iz posebno dizajniranog masivnog 1800 VA toroidnog trafoa tako da je nivo šuma izuzetno nizak i predstavlja izvor neograničene snage za bilo koje opterećenje. Glavne karakteristike su pun balansiran dizajn koji pruža dinamiku i detaljno vernu reprodukciju muzike. "Singl end" ulazni nivo pokreće 16 uparenih tranzistora snage za 165 W po kanalu na 8 Ω. Korišćenje balansiranog dizajna omogućava najniži nivo šuma i izobličenja. Sedam analognih izvora je dostupno sa 2 balansirana (XLR) i 5 single end (RCA) izvora. Par "pre amp" izlaza dozvoljava povezivanje na spoljno izlazno pojačalo dok se Thor koristi kao pred pojačalo.
Thor the god of war, shook the world with claps of thunder and conquered all with its awesome strength.
This is the new version of the integrated amplifier Thor. Now it has even more of the earth rattling power to transform sound into music and feeling into emotion. Thor Mk.II derives its immense strength from a massive 1800 VA custom designed, toroidal transformer. The noise floor is extraordinary low and Thor Mk.II yields a seemingly endless supply of power for any load. Thor Mk-II features a fully balanced design that delivers dynamic, detailed and lifelike presentation of music. The single ended input-stage drives 16 high power matched output devices to provide 165 watts per channel into 8 ohms. Using a balanced design ensures the lowest noise and distortion achievable. Seven analogue input pairs are provided for use with 2 balanced (XLR) and 5 single-ended (RCA) sources. A pair of pre-amp outputs allows connection to an external power amplifier while using the Thor as a pre-amplifier.
Technical specifications
2x165W 8 ohm - Less than 0.1% Thd 20-20Khz Bandwidth dc-200Khz
Input impedance 20Kohm 1800 VA custom made, special core transformer
2 balanced inputs 5 RCA inputs
Idun Fully balanced,remote controlled pre amplifier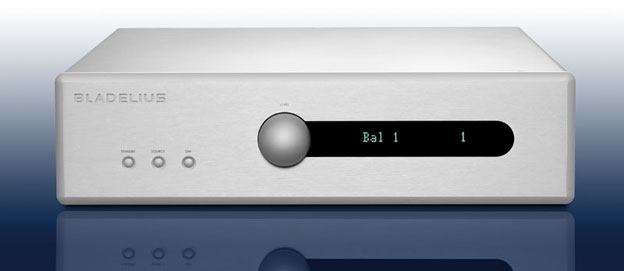 Idun je u potpunosti balansiran što mu daje dinamiku, detaljnu i vernu životu prezentaciju muzike. Sedam analognih ulaznih parova se koriste sa 2 balansirana (XLR) i 5 "single ended" (RCA) izvora. Jedan par balansiranih i jedan par nebalansiranih izlaza dozvoljavaju povezivanje sa spoljnim izlaznim pojačalom. Ulazna osetljivost se može prilagodititi tako da bude prilagodjena istom nivou sa ostalim ulazima. Ulaz za kućni bioskop dozvoljava da se Idun koristi u višekanalnom sistemu samo na dodir dugmeta.
Idun preamp is fully balanced, dynamic, detailed and gives a presentation of music true to life. Seven analogue input pairs are provided for use with 2 balanced (XLR) and 5 single-ended (RCA) sources. One pair of balanced and one pair of unbalanced and pre-amp outputs allows for connection to any external power amplifier. Input sensitivity can be adjusted for each input to balance the differences in output signal of other components so you have the same output level as you switch inputs. The Home Theatre input allows you to use the Idun in a multi-channel setup with just a push of a button.
Technical Specifications
Less than 0.01% Thd 20-20Khz Bandwidth dc-200kHz Input impedance 20Kohm
2 balanced inputs 5 single ended 1 pair balanced outputs 1 pair unbalanced outputs

Balder Fully balanced power amplifier 2x165W 8Ω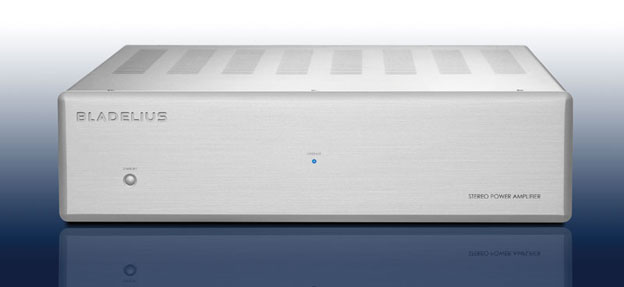 Ovo je perfektni partner za Idun i osnov za sistem sa više soba ili kućni bioskop. Može se opisati kao poboljšana verzija izlaznog stepena Thor. Korektno tumačenje je : balansirana konfiguracija sa "single end" ulaznim stepenom i "push pull" izlaznim stepenom sa uparenim bipolarnim tranzistorima snage. Veliki toroidni transformator u napajanju obezbedjuje odlično napajanje.
This is the perfect partner for Idun or as a building block in any multi room or home theatre system. It can be described as refined version of the output section of Thor. Correct deciphered this reads; balanced configuration with a single-ended input stage and push-pull output stage, fitted with matched bipolar power transistors. A huge toroidal transformer in the power supply section ensures excellent power capabilities.
Technical Specifications
2x165W 8 ohm * less than 0.1 % Thd 20-20KHz input impedance 20Kohm
Bandwidth dc-200Khz * 1800 VA custom made, special core transformer
Speaker terminals: WBT
Freya Mk. III Fully balanced,remote controlled Multiformat Disc player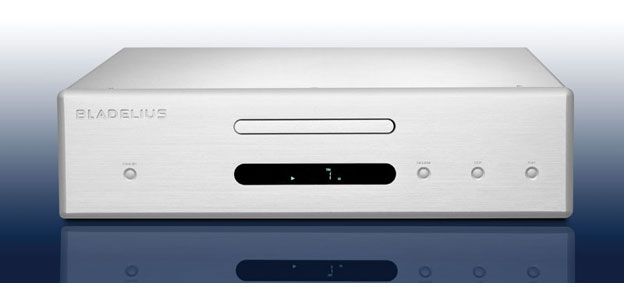 Freja Mk.III multiformat disc player pruža izuzetan odnos performanse / vrednost. Pun balansiran dizajn pruža dinamiku, detaljnu i vernu reprodukciju. Freja Mk.III je dvokanalni CD koji reprodukuje CD i SACD formate sa konvertorom na 192 Khz. Linearno napajanje za audio kola poseduje mnogo veće napajanje nego što bi se očekivalo. Signal je u potpunosti balansiran a Burr-Brown Digitalno Analogni konvertor visokih performansi pruža visok nivo odnosa signal / šum.
The Bladelius Freja Mk.III multiformat disc player offers outstanding price/performance value. The fully balanced design delivers dynamic, detailed and life-like presentation of music. Now presented in a completely new design. Freja Mk.III is a 2 channel disc-player that plays CD & SACD formats. It has an Up-sampling converter of 192 kHz. The linear power supply for the audio-circuits has a much larger torodial transformer than you would expect. All signal handling is fully balanced. For ultimate jitter reduction, the transport slaves to the DA-converters. Super high performance Burr-Brown DA-converter which gives you extremely high Signal-to-noise ratio.
Technical Specifications
Less than 0.005% Thd
1 pair balanced outputs + 2 pair unbalanced outputs
1 set optical digital output + 1 set RCA digital output
Twin-wave laser pickup

Saga Fully balanced,remote controlled pre amplifier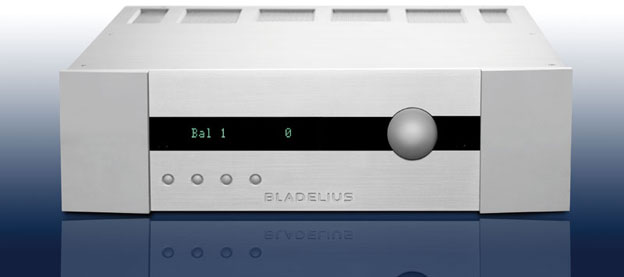 Ovo je novo dvokanalno predpojačalo koje prezilazi sva prethodna. Pedantno rutirana štampana ploča i minimalni broj komponenti u putanji signala rezultira u ekstremno transparentnom zvuku. Kontrola jačine koristi najkraću putanju. Dizajn je u potpunosti balansiran. Sve vitalne komponente su ručno selektirane i uparene. "Software" dozvoljava prilagodjavanje svih ulaza istom nivou i svi ulazi mogu se nazvati individualno kako bi se mogao korektno očitati svaki ulaz. Dupli balansirani izlazi su idealni za Beowulf ali su isto tako idealani i za Ymer-a. Napajanje je veće nego li što se može naći u mnogim integralnim ili izlaznim pojačalima, a ovde se koristi za predpojačalo!
This is the newest two channel preamp that supersedes its all previous preamps. Meticulously routed PCBs and minimal intrusion of components in the signal paths has resulted in an extremely transparent sound. The volume control utilizes the shortest possible signal paths. The design is fully balanced. All vital signal components are hand selected and matched. The software allows all inputs to be matched to the same level and all inputs can be named individually to read the correct name for each input. The double balanced outputs are ideal to drive the Beowulf, but it is also an ideal match with Ymer. The power supply is larger than one might find in many integrated or power amplifiers, but here it is used to drive a preamp!
Technical Specifications
Less than 0.01%Thd Bandwidth dc-200KHz Input impedance 20Kohm
3 pairs balanced inputs 6 pairs single-ended inputs
2 pairs balanced outputs 2 pairs single-ended outputs + Tape out
One toroidal transformers 300 VA each.

Ymer Fully balanced power amplifier 2x300 W 8Ω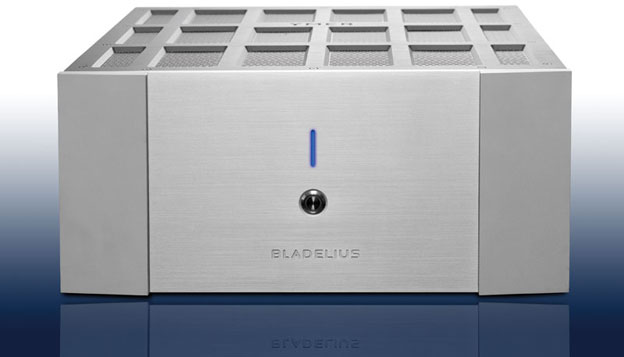 Ovo je u potpunosti novo pojačalo, nastalo na iskustvu velikih Beowulf mono pojačala. U njemu vidimo ogromno napajanjekoje snabdeva nizove izlaznih tranzistora sa dovoljno snage za bilo koje zvučnike bez ikakvog naprezanja. Prikaz ovakve muzičke reprodukcije je redak a najzahtevnija muzika se reprodukuje na način kako je izvodjač zamislio sa jasnom prezentacijom i sačuvanom dinamikom. Dizajn je u potpunosti balansiran. Sve vitalne komponente se ručno selektovane i uparene.
The brand new stereo amplifier, Ymer, is an offspring of the experience from the great Beowulf mono amplifiers. In this amplifier we see an enormous power supply that feeds an impressive array of output transistors with enough power to drive any speaker with out any effort. This renders a musical reproduction that is rare. It gives the ability to reproduce even the most demanding music in a way that the performer intended, with a clear presentation and all the dynamics preserved. The design is fully balanced. All vital signal components are hand selected and matched.
Technical Specifications
2x300 watt 8 ohm less than 0.1%Thd 20-20K input impedance 20Kohm
Bandwidth dc-200Khz 2*2Kva Transformers
Speaker terminals: next gen WBT
Beowulf Fully balanced Mono power amplifier 450 W 8Ω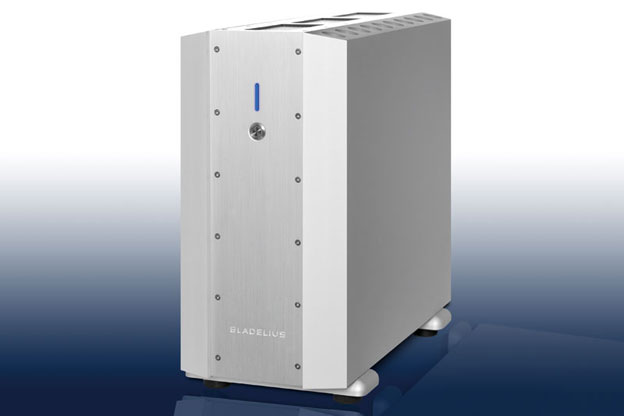 Beowulf mono izlazno pojačalo je prekretnica u dizajnu pojačala. Kombinaciju bi-polarnih i MOSEFET tranzistora u jednom kućištu je prva i pruža veliku prednost u muzičkoj reprodukciji i i kontroli "bi-wired" ili bi-amplifikaciji zvučnih sistema. U osnovi Beowulf su dva pojačala u jednom kućištu. Jedna sekcija pojačanja je bazirana na bipolarnim elementima je optimizovana da obradi informacije u nižem frekventnom opsegu, dok druga bazirana na MOSFET elementima optimizovana za viši opseg. Sve vitalne komponente su ručno selektovane i uparene.
Svaka sekcija izlaznog pojačala je u stanju da isporuči 450W na 8 Ω, 900W in 4 Ω and 1800W in 2 Ω u kontinuitetu. Ova beskrajna snaga je rezultat koji zahvaljuje napajanju koje snabdeva sa više od 10 kVA snage. Beowulf je svestran dizajn koji pruža mogućnost upotrebe pojačala u "bi-wire" zvučnoj konfiguraciji sa eksternom skretnicom za biamplifikaciju zvučnika.
The Beowulf monaural amplifier is a milestone in amplifier design. The combination of bi-polar and MOSFET power devices in one enclosure is a first and creates great advantages in music reproduction and control of bi-wired or bi-amplified speaker systems. Basically, the Beowulf is two power amplifiers in one enclosure. One amplifier section, based on bipolar power devices, is optimized to handle low frequency information, while the other amplifier section, based on MOSFET power devices, is optimized to handle high frequency information. All vital signal components are hand selected and matched.
Every power amplifier section is capable of delivering 450W in 8 Ohms, 900W in 4 Ohms and 1800W in 2 Ohms continuously. This immense strength is realized thanks to the huge switch mode power supply capable of supplying the amplifier sections with more than 10kVA of power. Beowulf is a very versatile design that offers the possibility to either use the amplifier in a bi-wired speaker configuration or with an external crossover for bi-amplified speaker configuration.
Embla Fully balanced,remote controlled Silent Reply System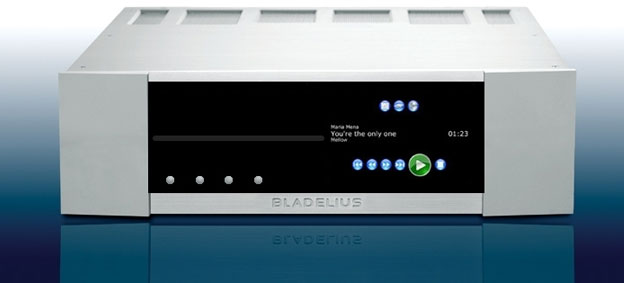 Potpuno novi sistem za reprukciju muzike. Cilj je bio napraviti uredjaj koji neće imati nikakv pokretni mehanički element za vreme reprodukcije muzike. Drugi zadatak je bio obezbediti protok muzičkog signala do Digitalno Analognog konvertora bez potrebe za korekcijom.
Sve ovo je ostvareno kroz sistem koji čita ceo disk i čuva u bit perfektnu kopiju u "flash" memoriji pre reprodukcije. Na taj način kada muzička reprodukcija krene nema mehanički pokretnih delova. Podaci stižu iz "flash" memorije koja je daleko superiornija od rotirajućeg diska.
Pohranjeni podaci se uskladjuju sa vremenom sa ekstremno malim odstupanjem. Bilo kakva korekcija očitaće se na ekranu gde se može posmatrati kvalitet disk / ripa. Na uredjaju su i mrežni Ethernet i USB adapter koji omogućavaju komunikaciju sa drugim uredjajima proširujući Vašu muzičku biblioteku. Moguće opcije su tvrdi disk, PC računar ili NAS server na mreži.
Totally new replay system for compact discs. The target was to create a player that did not have any mechanical parts moving when playing music. Another objective was to create a jitter-free stream of music data to be fed to the DAC's without any need for correction.
All this was realized with a system that reads the entire disc and stores a bit-perfect copy in a buffer flash memory before playing. So when the music is playing there are no moving parts active in the player. The data is fed from the buffer memory which is far superior in feeding an even continuous stream of bits, than a spinning disc.
The stored data is streamed through a clock with extremely low jitter. Any error correction will be shown on the front panel display where the quality of the disc/rip can be monitored. The player has Ethernet and USB ports which will be used to communicate and store music outside of the player and building your own library. Possible storage options might be a hard drive or a PC or NAS server on the network.
Brošura, slike visoke rezolucije i testovi nalaze se u Download sekciji - Broshures, Hi Rez. pictures and test reports are at Download section.